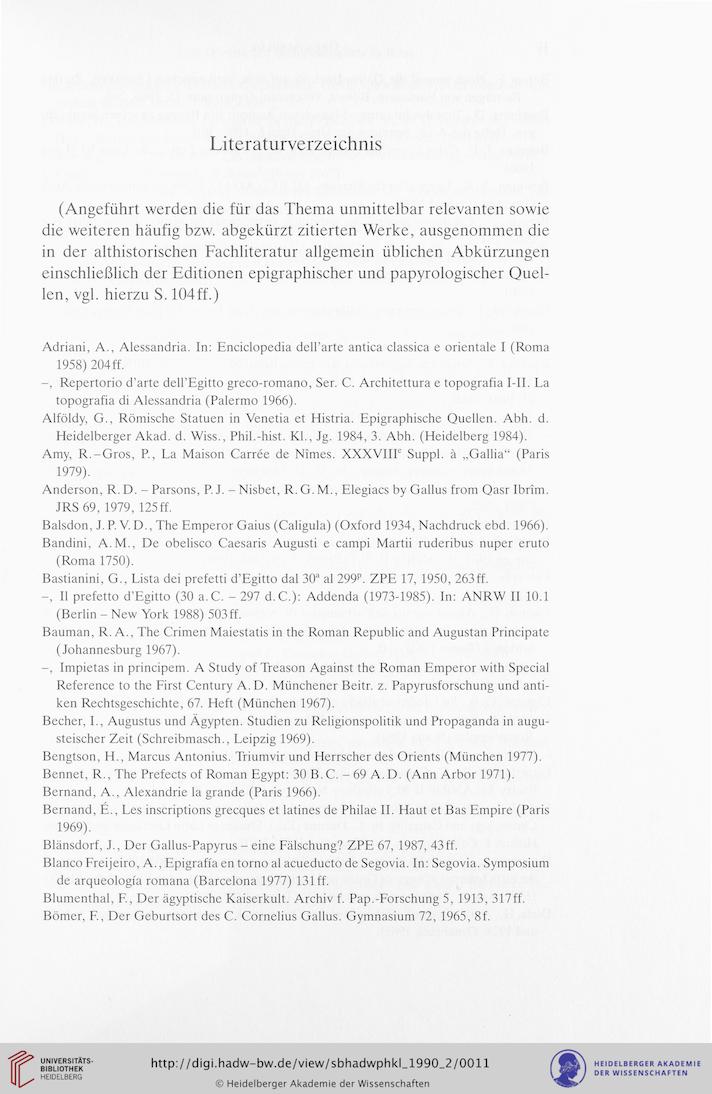 Literaturverzeichnis

(Angeführt werden die für das Thema unmittelbar relevanten sowie
die weiteren häufig bzw. abgekürzt zitierten Werke, ausgenommen die
in der althistorischen Fachliteratur allgemein üblichen Abkürzungen
einschließlich der Editionen epigraphischer und papyrologischer Quel-
len, vgl. hierzu S. 104ff.)
Adriani, A., Alessandria. In: Enciclopedia dell'arte antica classica e orientale I (Roma
1958) 204ff.
-, Repertorio d'arte dell'Egitto greco-romano, Ser. C. Architettura e topografia I-II. La
topografia di Alessandria (Palermo 1966).
Alföldy, G., Römische Statuen in Venetia et Histria. Epigraphische Quellen. Abh. d.
Heidelberger Akad. d. Wiss., Phil.-hist. Kl., Jg. 1984, 3. Abh. (Heidelberg 1984).
Amy, R.-Gros, P, La Maison Carree de Nimes. XXXVIIF Suppl. ä "Gallia" (Paris
1979).
Anderson, R.D. - Parsons, P J. - Nisbet, R. G. M., Elegiacs by Gallus from Qasr Ibrim.
JRS 69, 1979, 125 ff.
Balsdon, J. P. V. D., The Emperor Gaius (Caligula) (Oxford 1934, Nachdruck ebd. 1966).
Bandini, A.M., De obelisco Caesaris Augusti e campi Martii ruderibus nuper eruto
(Roma 1750).
Bastianini, G., Lista dei prefetti d'Egitto dal 30a al 299p. ZPE 17, 1950, 263ff.
II prefetto d'Egitto (30 a.C. - 297 d.C.): Addenda (1973-1985). In: ANRW II 10.1
(Berlin - New York 1988) 503 ff.
Bauman, R. A., The Crimen Maiestatis in the Roman Republic and Augustan Principate
(Johannesburg 1967).
Impietas in principem. A Study of Treason Against the Roman Emperor with Special
Reference to the First Century A.D. Münchener Beitr. z. Papyrusforschung und anti-
ken Rechtsgeschichte, 67. Heft (München 1967).
Becher, L, Augustus und Ägypten. Studien zu Religionspolitik und Propaganda in augu-
steischer Zeit (Schreibmasch., Leipzig 1969).
Bengtson, H., Marcus Antonius. Triumvir und Herrscher des Orients (München 1977).
Bennet, R., The Prefects of Roman Egypt: 30 B. C. - 69 A. D. (Ann Arbor 1971).
Bernand, A., Alexandrie la grande (Paris 1966).
Bernand, E., Les inscriptions grecques et latines de Philae II. Haut et Bas Empire (Paris
1969).
Blänsdorf, J., Der Gallus-Papyrus - eine Fälschung? ZPE 67, 1987, 43 ff.
Blanco Freijeiro, A., Epigrafla en torno al acueducto de Segovia. In: Segovia. Symposium
de arqueologfa romana (Barcelona 1977) 131 ff.
Blumenthal, E, Der ägyptische Kaiserkult. Archiv f. Pap.-Forschung 5, 1913, 317ff.
Bömer, E, Der Geburtsort des C. Cornelius Gallus. Gymnasium 72, 1965, 8f.